What originally provoked my search for a new raw cat food was my desire to remove all plant & clay fillers from my cats' diet.  I found Allprovide online and decided to give it a shot. We are on our 3rd delivery of it so I feel it's time to review this brand.
Allprovide is located in Norcross, Georgia.
They make species-appropriate, grain-free food for both cats and dogs that is formulated with the help of holistic veterinarian Dr. Judy Morgan.
They use only USDA inspected meats that are approved for human consumption from local farms. It really does look like the meat you would feed yourself, ground up.
You can find more specific details about their meat suppliers here.
They make 3 single protein, fish-free flavors for cats:
All of their foods contain turmeric. This ancient spice has gotten extremely popular  for both people and pets for its antioxidant and anti-inflammatory benefits (thanks to the curcuminoids it contains).
Keep in mind though that cats can smell so much better than we can so if your cat won't eat a particular food, it may not be the meat it doesn't like, it may be one or more of the other ingredients like spices, supplements or vegetables.
The texture is very similar to but maybe a bit more firm/solid than other frozen diets. The chicken and turkey flavors have more "juice" when thawed compared to the beef.
I usually go through 1 pouch per day between 2 cats. I'll feed them each 1/4 of a pouch in the morning and again in the evening. I like to store the opened pouch in the fridge in a cute kitty Pyrex container.
These ghost and reindeer designs are super cute too.
The pouches Allprovide comes in are made of BPA-free plastic.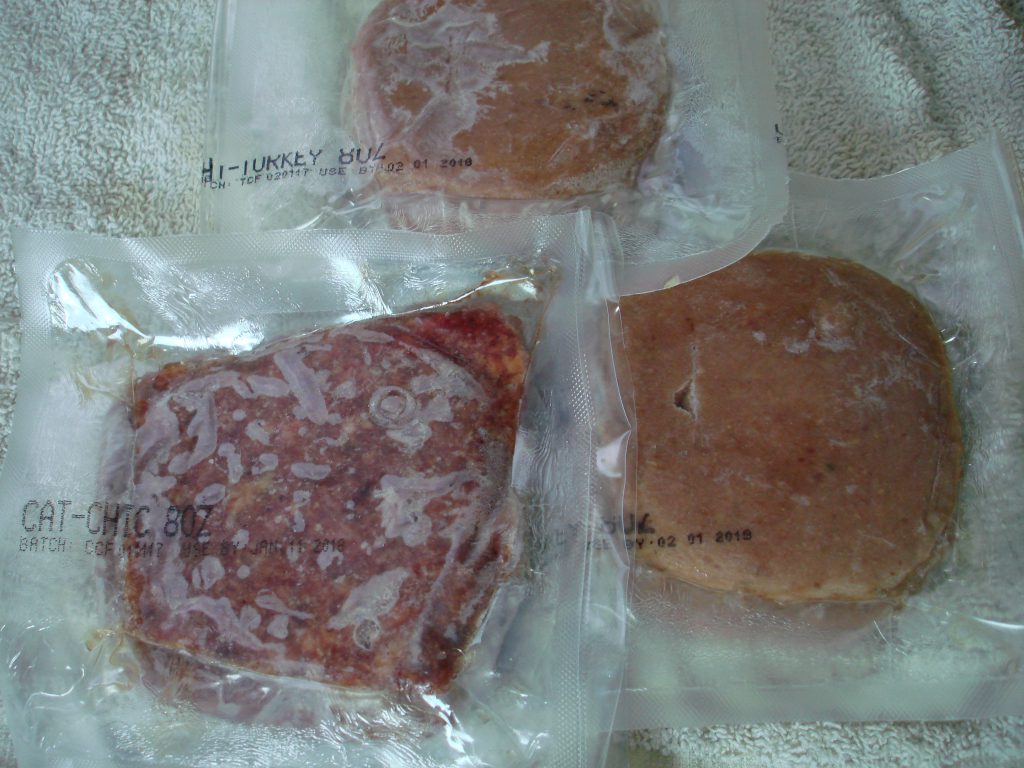 These pouches are actually very convenient for thawing & portioning, however they are a pain in the butt to open. You'll need scissors or a sharp knife to do the job.
I swear when I got my first order, I was able to pull the pouches open with my fingers. Guess not.
One pouch is equal to 8 ounces, two pouches is equal to 1 pound.
They're easy to thaw. Simply throw a pouch into a bowl of hot water or let sit on the counter for a few hours.
They require a minimum order amount of 10 pounds total, but you can order as many pounds of each flavor as you want.
It comes shipped in a reusable Styrofoam box with dry ice with directions. The dry ice has usually evaporated by the time it arrives but the food is still frozen.
If I order on Tuesday, they will ship it on Wednesday and it will be waiting at my door by lunchtime on Saturday.
These Styrofoam boxes make great small coolers to take to the cabin. And of course the cardboard boxes make great cat forts too.
It is the most affordable raw frozen cat food I've found that can be ordered online at $4.50 per pound (if you find a cheaper one let me know), and shipping is $4 to most states in the US, including Minnesota. 10 pounds is just $49.
The cost of shipping to states west of Minnesota (AZ, CA, ID, MT, NA, NE, NV, NM, ND, OR, SD, UT, WA, WY)  is only $16.
It is also available in some pet stores in Georgia & surrounding states.
I wish my taste testers loved this food as much as I do because the price is right but like any pre-made raw cat food, there are some pros and cons.
Originally they loved the beef, but don't really dig it as much anymore. They don't like the chicken or turkey and will only eat these if I mix in some canned food or Rad Cat.
I will probably still keep this in their rotation for variety, maybe a few times per year.
Would I recommend this to a friend? Yes.
Pros:
Very affordable
Single Protein diets
No fish or grains
Easy to thaw & portion pouches
Reusable Styrofoam box
Convenient to order online
Cons:
Only 3 flavor options
Beef is one of the top 2 food allergens in cats
Contains flaxseeds
Plastic pouches can be hard to open (scissors required)
Minimum 10 pound order
Calorie content not available on website- generic feeding guidelines
Click here to order directly through their website.
See more raw food reviews here!
Have you tried Allprovide? What raw food does your cat like?
Leave a comment below!