Looking for awesome online CE for vet techs? Look no further. Scroll down to the bottom of this post to skip right to the list.
Online continuing education is very convenient and for many credentialed technicians can meet the requirements for maintaining credentials.
It is not for everybody but it is a handy tool for most of us. Check your state's credentialing organization to see if it is accepted.
Ideally any course you take should be RACE approved (on AAVSB's Registry of Approved Continuing Education).
Unlike in human nursing, where they can just purchase continuing education units instead of participating, we techs have no easy button.
The requirements for successfully using online CE are:
access to a computer with internet for at least 1.5 hours at a time
a working email address
ability to commit to scheduled (live) webinars at a specific day/time
ability to download & save pdf files
ability to merge pdf files and/or print CE certificates
headphones (optional)
Most CE certificates are in the form of pdf files and you will need to download them in order to save them to a computer or zip drive and to print them. They are usually emailed to you after completing a survey or quiz after the CE is completed.
If your credentialing organization requires online renewal, you may need to combine all of your CE certificates into one pdf file for submission. You can use this tool here for that. It costs $10 per month and you can sign up for just one month and then cancel after using it-that's the cheapest option.
In Minnesota, for example, a minimum of 10 total CE credits are required every 2 years for re-certification. Those credits are broken down into 4 categories:
technically related interactive
technically related non-interactive
non-technically related interactive
non-technically related non-Interactive
A certain number of CE credits may be accepted or required for each category depending on your credentialing organization.
In Minnesota, 7 credits minimum are required in the technically related interactive category and a maximum of 3 credits will be accepted for all other categories.
The number of credits a course/webinar offers and the category it falls into should be stated both on the website and on the CE certificate.
One credit hour equals one hour. Most online webinars run from 1 to 2 hours.
Tech tip: don't wait until the last minute! Keep track of the CE credits you earn as you go in an Excel spreadsheet or a handwritten list.
Interactive means that the event is scheduled at a specific day & time (live webinar) and participants are able to ask questions. Multiple people are participating at the same time.
There is often a short Q & A session at the end of the presentation, so write down any questions you have during the presentation.
Be prepared to participate! There are multiple choice questions at the beginning and often throughout the webinar so they know you are not sleeping through it!
Yes, part of the convenience of doing online CE at home is that it can save time because you can multi-task while doing it (if you want to), but if you don't answer the questions at the beginning of the webinar, you will NOT receive a CE certificate, even if you are watching it!
Here are a couple of examples: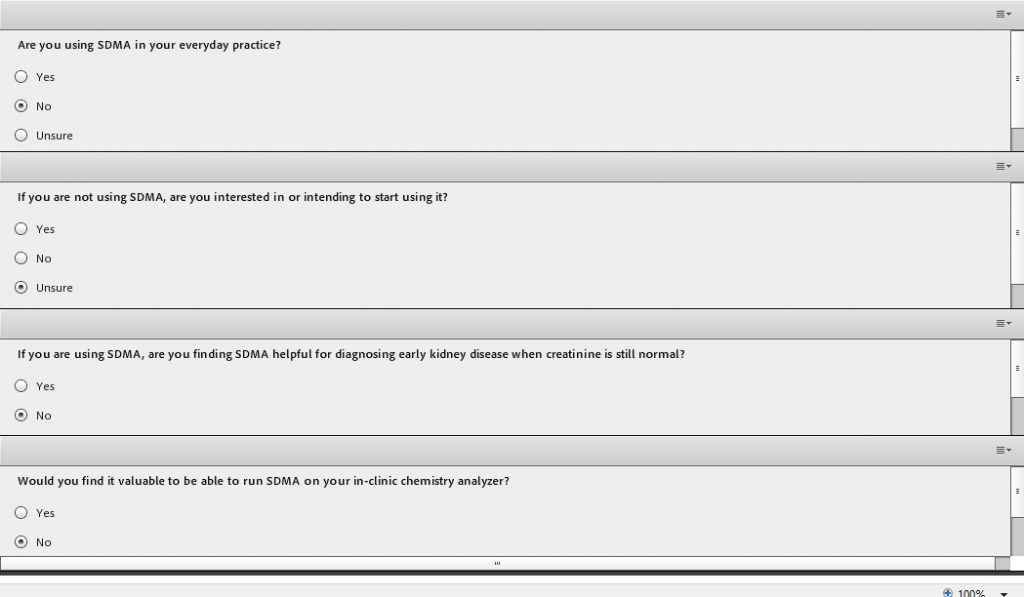 Some questions are harder, for example guessing a diagnosis after being shown radiographs and or and EKG.
Some longer courses, such as those offered on VetMedTeam, might also be considered interactive and may have their own individual course requirements, which may include purchasing textbooks.
There is usually a larger fee for those types of courses- some offer up to 25 credits!-which is not budget friendly for every tech.
Non-interactive is similar to self-study, where you can complete it anytime whenever you want by yourself, similar to reading a journal article.
Archived webinars fall into this category, although webinars are not the only type of CE you can find online.
Non-interactive CE also includes videos or articles that require a quiz at the end to prove that you read and understood the article or watched the video.  They may require a minimum score of 70-80% correct answers to earn the credit.
Here is the list of the best online continuing education resources I have found online:
American Association of Feline Practitioners (AAFP)
AAHA Parasite Counselor Program
Animal Hospice & Palliative Care Certificate Program
Humane Society Veterinary Medical Association (HSVMA)
University of Illinois College of Veterinary Medicine
University of Wisconsin School of Veterinary Medicine
Elanco PET Program on VetMedTeam
Note: this list with links will be updated as often as I can find new resources. If you know of any good ones, please leave a comment below.
Most I've found are free, while some require a fee if you are not a member. Pricing can really vary- about $20 to over $200 depending on the length of the course and who is providing it.
My top 2 favorites are Idexx and HSVMA. Idexx is always free and hosts many live webinars every year. These are usually 1 hour long (you can earn 1 CE credit for each one).  They also have archived webinars available.
Idexx is THE ONLY place to get trained on SDMA! Did you know that there is an algorithm to use with it? There is 🙂
Tip: I log into the Idexx Learning Center directly about 10-15 minutes prior to the scheduled start time to access the webinar. They will send you an email beforehand with a link to it, but one time they had a link to the wrong presentation, so I was late to the webinar and missed the first participation questions. I did not receive credit for that one and didn't figure out why until much later.
HSVMA hosts 6 online CE webinars per year (1.5 credits each=9 credits total each year) that are free for members. Membership is around $30 per year for techs so that works out to be $3.33 per credit.
Don't let the name fool you-you do not need to work in a shelter or have shelter/rescue experience to join HSVMA.
They also have many volunteer opportunities for techs to help with providing vet care to rural areas.
Two of the magazines in the photo, Animal Sheltering & All Animals are complimentary with HSVMA membership.