I compiled a list of the best top-rated wet cat foods here and also a list of the worst foods to avoid.
It is important for cats to get water with their food for optimal health. Wet food is the easiest way to do this. It is also perfect for cat owners who can't or won't feed a raw diet. An all-wet food diet is the next best thing.
Wet Food is Best for Cats
Wet cat foods are 70-80% water. This is great for their kidneys and urinary tract. Cats generally don't chug a lot of water and if they're healthy, they shouldn't. They are meant to be eating prey animals (like mice and rabbits) and not dry kibble. A fresh mouse carcass contains 70% moisture.
Many cat caretakers ask their veterinarian for recommendations on foods. This is not a bad thing, but in my experience vets do not get very much training on nutrition. The education they do get comes from the big-name brands that make prescription diets (Science Diet, Purina, Royal Canin). At least 3 vets I've worked with over the years told me this.
Also, most people don't know this, but some people have intellectual laziness. Even some highly educated professionals do. I know vets who don't want to own any pets.
I know vets who will not spend a moment of their precious time outside of work researching pet foods or nutrition or raw diets. But people will trust them no matter what they say simply because they went to vet school.
At least most vets are recommending wet food for cats these days. This is going in the right direction.
A Combination of Foods Is Okay Too
I feed my cats mostly raw; however there are a couple of reasons why I still also feed wet food. An all-raw diet can get expensive if you buy pre-made (like I do) especially for multiple cats.
I started feeding raw  about 10 years ago now, and there are times when I forget to thaw it out or forget that I used up the last of it and need to buy more. Those are the times when it's really handy to have canned food on hand.
To save us all time, I listed below the best wet cat foods and where you can buy them online. There is a short list of budget options at the end. These are all foods I either currently have in my cupboards or have used in the past.
I still work full-time as a vet tech, so I'm not able to investigate every food in existence but I will try to!
There are thousands of different cat foods on the market, so keeping up with the industry could certainly be a full-time job for somebody.
If there is a food or brand you don't see on the list, it is because it probably did not meet my standards or contains something that I feel is not beneficial for a cat.
The Grading Criteria
These are my simple requirements for a food to make the list:
Grain free
Dairy free
Carrageenan free
Under 10 % carbohydrates
Real meat is the first ingredient
It should be easy for a food to make the list- but keep in mind pet food manufacturers just make whatever they want to sell you and market it so that it sounds like what is in the can is healthy.
The Ideal Diet for Obligate Carnivores
The ideal diet for an obligate carnivore is simple: protein, fat, moisture, vitamins, minerals. No fillers. With the foods on this list, you can be confident you're feeding the highest quality wet food possible.
As a species, they are a bit different than dogs & humans when it comes to digestion. Cats cannot properly digest and metabolize grains & starches. I try to avoid legumes, which are a popular filler these days. Legumes include: soy, peas, lentils, chickpeas, garbanzo beans, etc.
They have a short gastrointestinal tract compared to other animals. They do not produce amylase in their saliva, so they do not taste sweetness.
Their bodies convert protein into glucose (gluconeogenesis) so they don't have a dietary requirement for carbs or sugar.
Be Sure That Meat is the First Ingredient
Meat should always be the first ingredient- animal protein is better for them than plant protein. Grains & vegetables do not provide complete proteins for cats.
There are some essential amino acids their bodies cannot produce so they need to get those from animal sources. Meat & eggs provide complete proteins and other valuable nutrients which are essential for cats.
Unlike other species, cats cannot convert beta-carotene into vitamin A. They need preformed vitamin A from another animal. Liver is a great source of vitamin A, vitamin C, omega 6 fatty acids, choline, selenium and other nutrients.
Cats can only get arachidonic acid from meat.
Dairy is Not Wanted
The majority of cats & dogs are lactose intolerant after infancy which can cause vomiting and/or diarrhea. Dairy is contraindicated if your cat is on any type of tetracycline antibiotic. Dairy is now added to many pet foods- yep wet, dry, and even raw- and that is not always stated on the front of the label- you MUST read the ingredient list.
Carrageenan is commonly used as thickener in pet foods. It is linked to IBD- it causes gastrointestinal inflammation. Carrageenan is used to induce inflammation in laboratory animals to test the effectiveness of anti-inflammatory drugs.
It is best to just avoid this ingredient altogether. Check the ingredient lists on both pet and human foods as it is commonly found in dairy alternatives and other processed foods. There are alternatives to this ingredient, which is why you often see carob bean gum, guar gum and/or xanthan gum in wet foods.
By they way, almost all of the prescription pet foods contain carrageenan.
Another thing to look out for is preservatives.
Do not ever buy a food that lists ethoxyquin, BHA, BHT, or TBHQ on the ingredient list. Those are synthetic preservatives that have natural safer alternatives.  You might see mixed tocopherols, vitamin E, citric acid, or rosemary extract at the end of the ingredient list. Those are fine.
I personally prefer not to buy foods with plant oils, but they are now included in almost every cat food these days.  If everything else about the food is legit, I don't waste time worrying about plant oils.
Note: cat foods in pouches will usually always be higher than 10% carbs and are not considered for this list.
Our Top Rated Choices
Hound & Gatos Grain Free (paté)
Wild Calling (paté)
Dr. Elsey's CleanProtein (paté)
Chicken Recipe Paté (contains shellfish)
Turkey Recipe Paté (contains shellfish)
Whitefish Recipe Paté (contains shellfish)
Beef Recipe Paté (contains shellfish)
Evo 95% (paté)
Sheba Perfect Portions (paté)
Savory Chicken Entree & Roasted Turkey Entree
Tiki Cat (shredded/chunks)
Succulent Chicken Puka Puka Luau in Chicken Consommé
Succulent Chicken Koolina Luau with Egg in Chicken Consommé
Weruva (shredded/chunks)
Paw Lickin' Chicken with Chicken in Gravy
Quick & Quirky with Chicken and Turkey in Gravy
Hound & Gatos
Hound & Gatos is one of the most trusted pet food brands around. They are the original Paleolithic diet company. They only produce canned food for dogs and cats- no dry! This company really understands what a species-appropriate diet is for cats. They only use animal ingredients- never plants.
I appreciate a brand that makes life easy for me. I know I can just quickly run into the store and grab some Hound & Gatos and I'll be giving my cats safe, low carb high quality canned food.
They DNA test each batch of their food to ensure that the type of animal(s) that is stated on the label is what is actually in the can. No other companies that I know of do this.
Their foods are always free of grains, carrageenan, byproducts and fillers. All cans are BPA-free. Performance Pet Products in Mitchell, South Dakota is the company that cans their food.
Made in the USA with meat sourced from the USA.  The lamb comes from New Zealand. They never use any ingredients from China or Asia.
Hound & Gatosis sold in the USA and Canada. It is difficult to find this brand in stores, unless you have an independent pet store near you like Bentley's Pet Stuff. It is not sold at Petco or Petsmart. Shop for Hound & Gatos on Amazon.
Keep the Different Proteins to a Minimum
The only potential issue I can find is that they have a lot of different proteins in some of their foods. For example, there are two different rabbit formulas this brand makes, and one of the rabbit recipes contains 6 different proteins: rabbit, quail, duck, turkey, pork, lamb. The other rabbit recipe only contains rabbit.
Some cats are extremely sensitive and can only handle one, maybe 2 different proteins in one meal.
Also, fish is one of the top 2 food allergens and is often found mixed with chicken or beef or other meats. I don't recommend feeding fish unless you know your cat is not allergic, or if they are refusing food and starving themselves.
However, there are a lot of cats who do well on fish.
If your cat does not have food allergies or vomiting/regurgitation/diarrhea issues, it's nothing to worry about.
I mix it with raw simply because most of the high quality pre-made raw foods are quite expensive and I don't want to go through twice as much of those.
Wild Calling
Here is a small family owned company that knows what cats (and dogs) crave: meat. Their canned foods contain 96% meat with the necessary supplements added in. Wild Calling is made in the USA without foreign ingredients. For them, pets always come before profits.
All of their canned foods are great, but I cannot recommend their dry cat foods because they add starches (tapioca, sweet potato) and legumes (lentils, dried peas). Unfortunately, there is no such thing as a 'good' dry food for cats so it's a good thing you're looking at the list of the best wet foods. The Triple Delight flavor contains multiple proteins & fish.
They had a rabbit flavor but I can't find it so it may have been discontinued. They also had an alligator flavor I bought once. It was soupy and very orange and gross looking. One of my cats ate a little of it and I had to throw the rest out. I'll give them points for trying exotic meats.
Evo 95%
My local pet store sent me a letter saying this brand will no longer be manufactured but it is a good food so if you can find it, grab it before it's gone! They are owned by Mars Petcare who has also discontinued all California Naturals cat foods, some California Naturals dog foods, and all Innova cat & dog foods.
Dr. Elsey's Clean Protein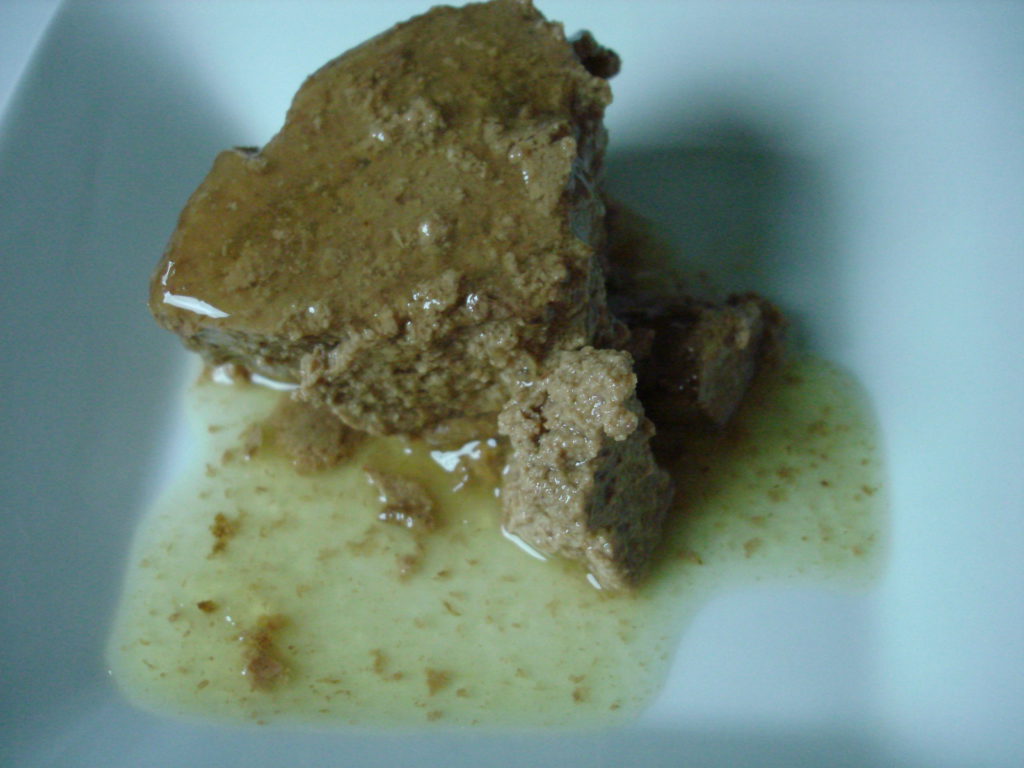 This line is newer to the market. This really is an overall good canned food, and a much better quality choice than most of the options at big name pet stores. All canned flavors have a smooth paté texture.
There are 2 reasons why this brand might not be appropriate for your cat:
All flavors contain multiple proteins
All flavors also contain shellfish in the form of New Zealand green mussels.
If your cat does not have food intolerances or allergies, go ahead and try it. Fish is an 'easy button' for pet food companies because they can jack up the protein level without adding a lot of calories or fat.
My cats & I love the Dr. Elsey's Precious Cat litter and the cleanprotein dry food.
While there is no such thing as in ideal dry food for cats, if you backed me into a corner and said, "You and your cats are stranded on a deserted island and you either have to feed them dry food or let them starve to death. There are no other options", I would choose Dr. Elsey's Clean Protein. This is the only dry cat food I allow in my house.
Sheba Perfect Portions Grain Free Paté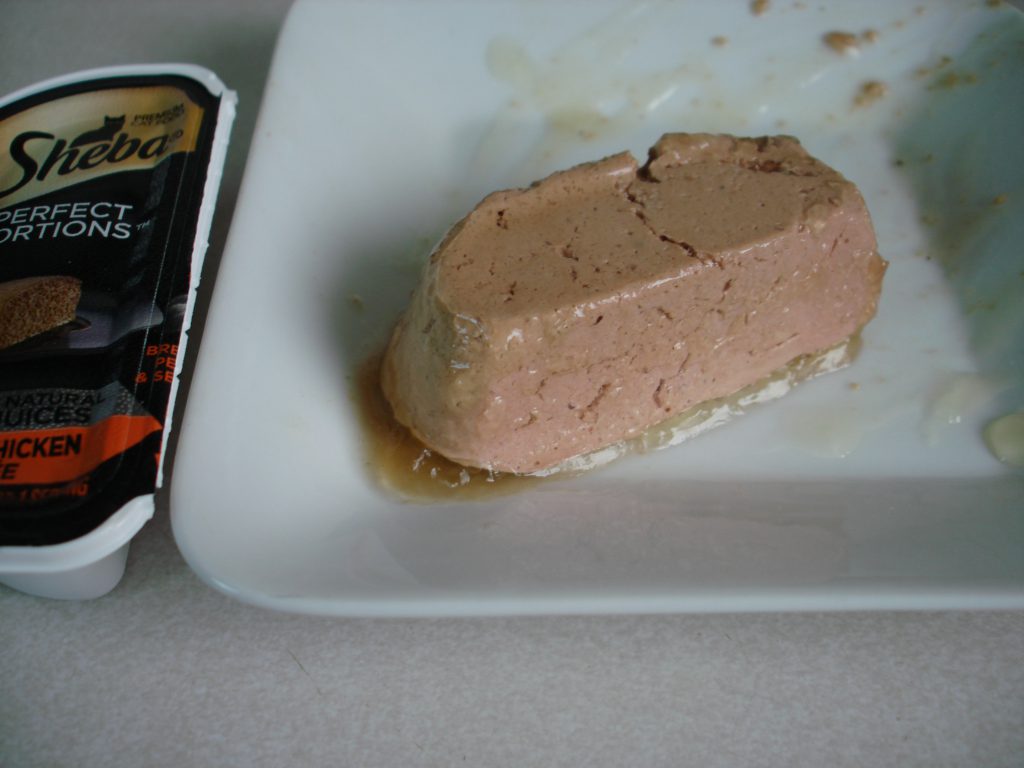 This one passes the taste test at my house. It is a great affordable option. My cats love the texture. It is a perfectly smooth pate in gel. I can hold it upside down over a plate and the whole mass of paté plops out.
What makes these convenient is that you can open just one side if you want to put out a small amount of food, rather than opening a larger can and refrigerating it and then having to warm up the food again before feeding it. The sides come apart. Just fold n' snap.
Keep Carbohydrates Under 10% of Calories
Only the paté texture made the list because their cuts in gravy line is higher than the 10% carbs limit. I feed the cuts in gravy flavors to a picky eater, because the ingredient list on that food is a bit better than the Fancy Feast gravy lover's.
Another reason this one made the list is because the paté line has about 45% fat and 45% protein. That is very balanced. Many people don't realize that the majority of wet foods on the market only have  around 25-35% protein, which is too low in my opinion.
It would be easy to assume that Sheba Perfect Portions is not a good brand to feed your cat simply because of the price point, but I don't see any blaringly obvious bad ingredients on the ingredient list. It is a pretty okay formula! Especially for the price!
This is exactly why you ALWAYS read the ingredient list on EVERY food or treat before you buy it.
Tiki Cat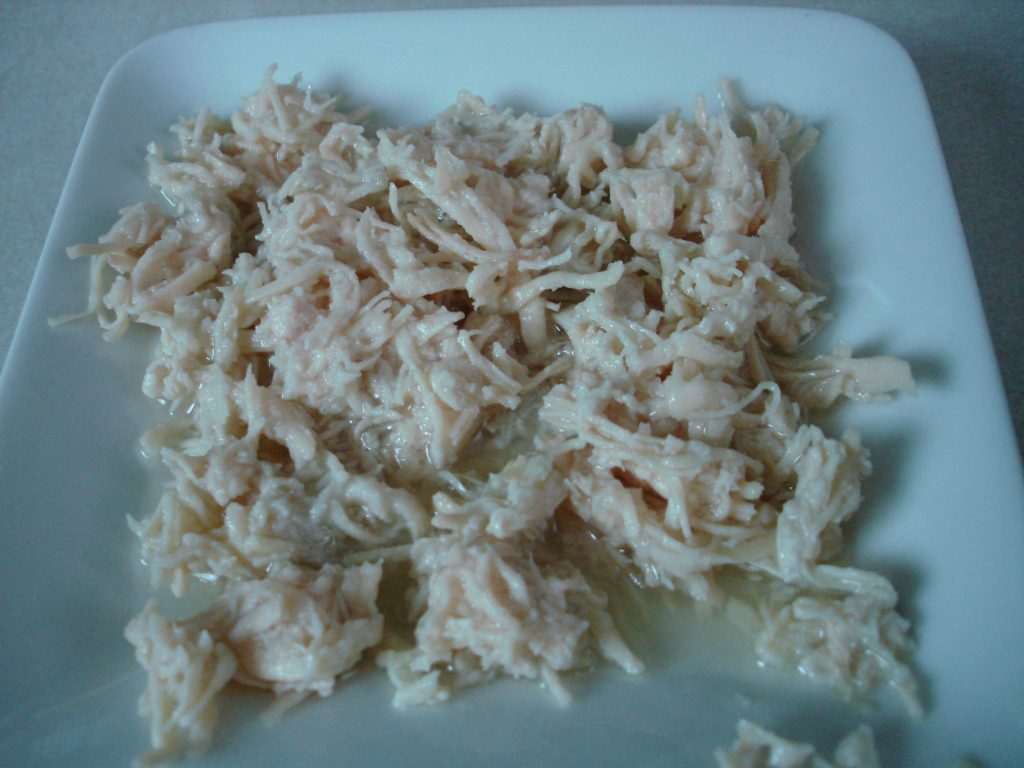 Meat is priority in all of their products.  This brand is canned in a facility that also packs human foods. Both Tiki Cat and Weruva make foods with the same texture: shredded meats or chunks in gel/broth. Pretty much all of their canned varieties are good except the few containing rice. Their After Dark line contains nutritious and tasty organ meats.
It's a great choice for cats who can handle fish since they make so many flavors with fish.
The coolest thing is that Tiki Cat makes new Velvet Mousse pouches and single serving Stix wet treats for cats who love a perfectly smooth creamy mush. The Stix are not completely nutritionally balanced, so those are for supplemental feeding only but they do all have fish flavoring so they're great to use for cat who won't eat chicken baby food.
Weruva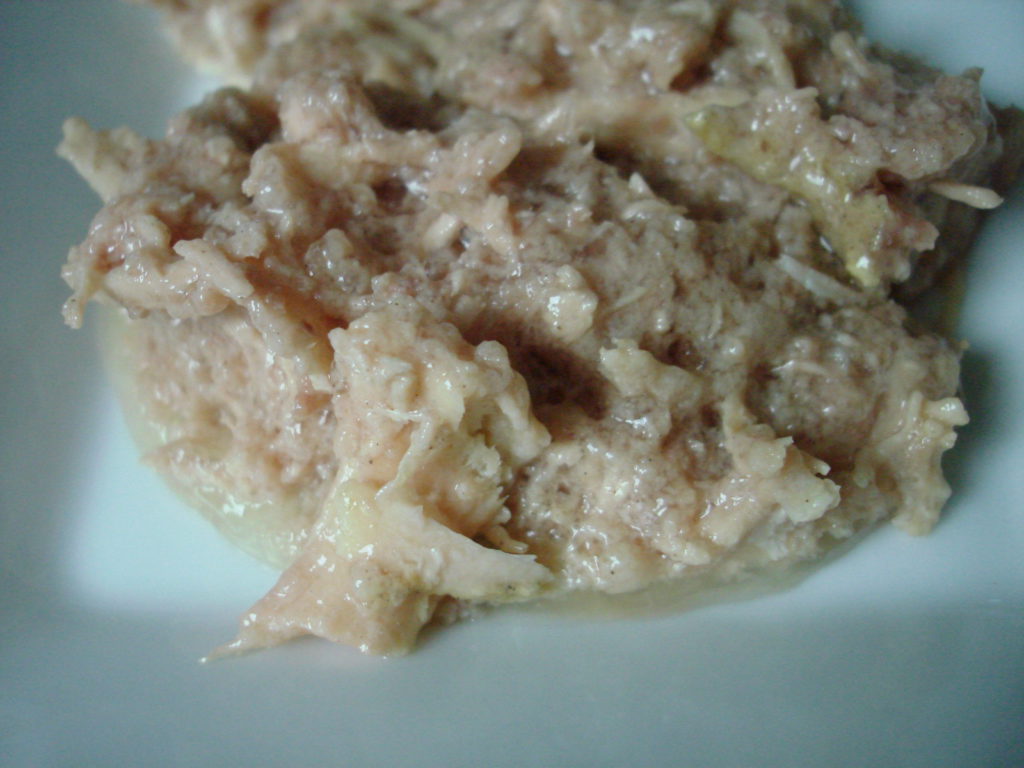 Made using good quality meat in a human food facility. They only use boneless, skinless muscle meat that is fit for human consumption. Their philosophy is to keep it simple to fuel the carnivore. Since they understand that the ideal diet for a carnivore is focused around protein, their foods only contain between 1% and 3% carbohydrates. They've created their own rap video, which I think is a first for pet food companies.
Wet Food Feeding Tips
You can always add more water to any canned food if your cat likes it soupier. Some cats really like that (and some really don't). You can also chop up a pate with any kitchen utensil to make it into small chunks.
If you don't use a whole can in one feeding, the rest can be covered and refrigerated. Using a cover made for canned pet foods is the best option, but tin foil will work. You can often get free plastic lids from your vet's office.
Before feeding refrigerated food again, put it on a microwave safe dish and microwave it for 5-10 seconds to warm it up to room temperature or add hot water to it.
Most cats won't eat cold food and if they do, expect it to be regurgitated on the carpet. Any wet food that is refrigerated will last up to 7 days; after that it should be thrown out.
The Worst of the Worst- Avoid these brands!
Meow Mix
Chef's Blend
Alley Cat
Deli Cat
Kit N Caboodle
Blue Buffalo
Evanger's
These foods have a reputation for causing urinary tract issues, especially in male cats. I don't know the exact reason why (I don't know any vets that do either) but perhaps they have too much ash or some imbalance of minerals.
Evanger's is on the list only because pentobarbital was found in their dog foods, which is the euthanasia drug used to put cats & dogs to sleep.
That is too bad because they have one canned cat food that is organic that I liked. That food was expensive at $2.99 for a 5.5 ounce can. It really says something about a company when that kind of chemical makes it into their products. It is safest just to avoid that brand altogether.
You Get What You Pay For
Notice the first 5 brands listed are the cheapest of the cheap. If you skimp on quality with your cat's food, you will pay for it in vet bills later.  Even if you have multiple or outdoor/barn cats to feed, please choose foods wisely. No cat deserves to suffer.
Check if the place you buy food from stocks 12 or 13 ounce cans or offers any discounts for whole cases or bulk purchases. Stores like Bentley's Pet Stuff and Chuck & Don's have frequent buyer programs and coupons.
At the very least, almost any wet food (except for the ones to avoid listed above) is better than dry food. If you must leave dry food out, supplement with as much wet food as you can.
Budget Options
Here are some affordable options that I would be comfortable feeding to barn/feral/outdoor cats:
It's always affordable and widely available even at grocery stores. There are several flavors including chicken, turkey, beef, salmon, and a variety of fish flavors.
Purina Pro Plan True Nature Grain Free Formula Natural Chicken & Liver Entrée Classic 
*3 oz cans only* this flavor only* The barcode # is 038100170491. They recently added 'kitten' to the label, but this should be fine for adult cats.
The 5.5 oz cans in this line ALL contain carrageenan. The other flavors in this line have grain fillers and crap in them.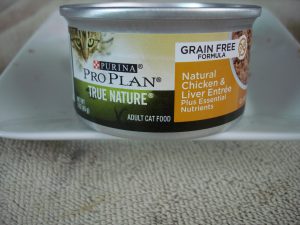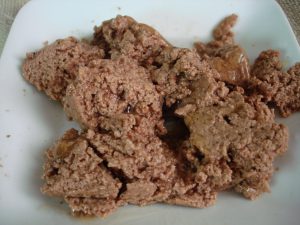 Nutro Chicken Recipe Soft Loaf Canned Kitten Wet Food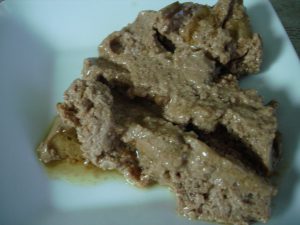 Nutro Soft Loaf- only the carrageenan-free flavors! I don't understand why this brand chose to add it to some, but not all of their wet cat foods. They have a statement on their website saying they are cleaning up their cat foods and everything will be non-GMO. This is good. But why were their foods 'unclean' to begin with? I hope they remove the carrageenan.
Their paté really does have a nice texture that spreads easily with a soft touch. It just looks kinda gross in the photo because the lighting in my kitchen is not that bright.
Nutro has their own Perfect Portions product that is similar to the Sheba Perfect Portions, although I'm not sure why they added dried tomatoes to it. All of the other ingredients look fine. Tapioca starch is added for texture.
It is getting harder to find pet foods that don't have either tapioca or potato starch.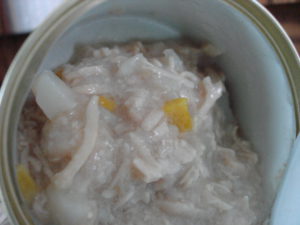 Petite Cuisine is a good option for kitties who prefer shredded meat. There are, however, chopped carrots & potatoes in this line.
The other varieties (gravy lovers, flaked, minced, chopped, etc.) contain the bad stuff you don't want to see in your cat's food. The Purely Fancy Feast tubs are a nice treat, just shredded or chunked meats & fish with some vitamins and minerals added.
I always read the ingredient lists of the classic flavors before buying just so I can make sure nothing new has been added that wasn't in it before. Fancy Feast is owned by Purina so the meat is obviously not the highest quality but the price point fits. You get what you pay for.
Check the price of Fancy Feast on 1800petmeds as they often have discount codes! Who doesn't love a discount?