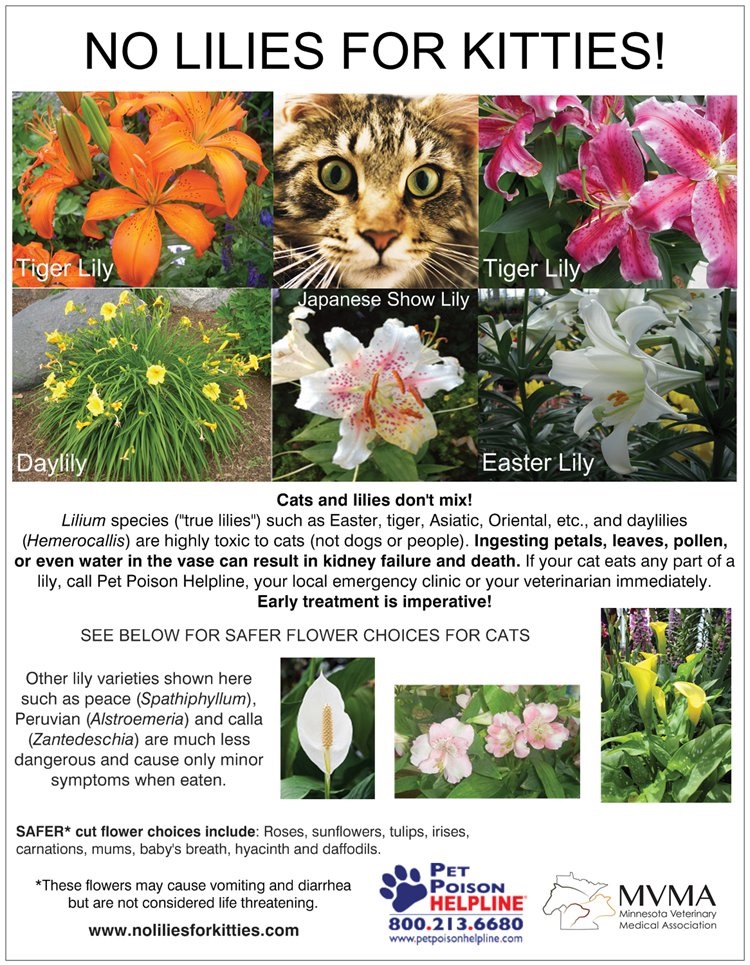 Please spread the word! If you own cats, tell your family, friends, neighbors, etc. that lilies are deadly. If you are gifted a lily plant, either keep it outside or immediately toss it in the garbage (or burn it).
If your cat has ingested any amount of a lily plant, take it straight to the nearest emergency vet.
Many other plants are toxic to pets, although most of these will cause gastrointestinal symptoms such as vomiting and or diarrhea.
It is always a great idea to research any plant species before bringing it into your home. Take a photo of it if you don't know the name, and do a google image search.
It is worth taking the time to do this if you don't appreciate surprise vet bills!!!
The feline digestive system is not equipped to break down, digest, and metabolize plants at all. This is why they puke them up! Don't ever let anyone tell you that cats need to eat plants or vegetables.
Cats do still like to chew on plants anyway, just like an unsupervised baby or toddler will stick non-edible things in their mouth.
Cat grass is safe, but your cat may still puke it up or it may come out in their poop. Cat grass is usually wheat, oats, barley, rye, or flax.  Organic & non-GMO grass is ideal.
Here's the master list-this list applies to dogs also:
Aloe Vera
Amaryllis
Andromeda japonica
Apple seeds
Apple Leaf Croton
Asparagus Fern
Autumn Crocus
Avocado fruit & pit
Azalea
Baby's Breath
Bird of Paradise
Birdnest sansovioria
Bittersweet
Branching Ivy
Buckeye
Buddhist Pine
Caladium
Calla Lily
Carnation
Castor Bean
Ceriman
Cherry (seeds & wilting leaves)
Chinaberry Tree (berries, bark, leaves, flowers)
Chinese Evergreen
Christmas cactus
Christmas Rose
Chrysanthemum
Cineraria
Clematis
Coleus
Cordatum
Corn Plant
Cornstalk Plant
Croton
Cuban Laurel
Cycads
Cyclamen
Daffodil
Daisy
Day Lily
Dracaena
Dragon Tree
Dumb Cane (all types) Dieffenbachia
Easter Lily
Elaine
Elephant Ears
Emerald Feather
English Ivy
Fiddle-leaf Fig
Flamingo Plant
Florida Beauty
Foxglove
Geranium
German Ivy
Glacier Ivy
Glory Lily
Golden Pothos
Hahn's Self-Branching English Ivy
Heavenly Bamboo
Hibiscus
Holly
Hosta
Hurricane Plant
Hyacinth
Hydrangea
Indian Laurel
Indian Rubber Plant
Iris
Japanese Show Lily
Jade Plant
Jerusalem Cherry
Kalanchoe (Panda Bear Plant)
Lily of the Valley
Macadamia Nut
Madagascar Dragon Tree
Marble Queen
Marijuana
Miniature Croton
Mistletoe
Morning Glory
Mother-in-Law's Tongue
Narcissus
Needlepoint Ivy
Nephthytis
Nightshade * will cause decreased heart rate
Norfolk Pine
Oleander
Onion * will cause anemia
Oriental Lily
Peace Lily
Peach (wilting leaves & pits)
Pencil Cactus
Philodendron (all types)
Plum (wilting leaves & seeds)
Plumosa Fern
Poinsetta (low toxicity)
Poison Ivy
Poison Oak
Pothos
Precatory Bean
Primrose (Primula)
Red Emerald
Red Princess
Rhododendron
Ribbon Plant
Sago Palm
Satin Pothos
Schefflera
Silver Pothos
String of Pearls/Beads
Sweetheart Ivy
Swiss Cheese Plant
Taro Vine
Tiger Lily
Tomato Plant (green fruit, stem & leaves)
Tulip
Variegated Rubber Plant
Wandering Jew
Weeping Fig
Yesterday, Today and Tomorrow
Yew
Yucca