Baby food is a great tool for cats. Always keep a few jars handy! It may help stimulate the appetite when they are not eating. When cats don't eat, they can get very sick, and then feeling sick makes them not want to eat so it is a vicious cycle. It's no secret that even veterinary clinics use baby food for cats!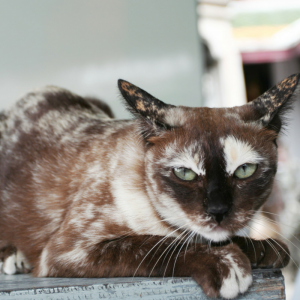 It can also be used for an occasional treat or for giving some medications. Try crushing pills and hiding them in a teaspoon of baby food- this works really well for some cats.
Other cats are just really smart and can sense when you've done something to their food and will refuse to touch it.
However, with very bitter tasting pills (such as Metronidazole or Amitriptyline) this will not work.
Not sure if your cat's meds are bitter tasting? Ask your vet or the staff at the clinic.
Some medications can be compounded with flavors-this is a great option if you are having trouble medicating your cat.
Compounded medications also are usually more expensive and may need to be refrigerated.
Remember you only need to use a very small amount (i.e. a teaspoon or a tablespoon) of baby food for medications. Give this small amount with the meds in it to your cat first and make sure they eat it! Then they can have more food after.
Some cats are smart and they just know when you've put something in their food and they won't touch it.
What kind of baby food can I give my kitty?
Meat only. You will want to check the ingredient list to make sure it does not contain any herbs, spices, fruits or veggies- it should only say meat and water.
Some brands like Gerber & First Choice also add cornstarch, which will work if you cannot find any without cornstarch in it (and if your cat is not diabetic).
Beech Nut Classics 1st Stage is available in chicken, turkey, or beef
Gerber 2nd Stage is available in chicken, turkey, ham, or beef
First Choice Stage 2 is

available in chicken

or turkey.
Wild Harvest Organic 2nd Foods is available in chicken or turkey
Earth's Best Organics, Happy Baby/Happy Tot,  & Plum Organics DO NOT have any varieties that are suitable for cats.
On its own, baby food is not nutritionally complete, so it cannot be the only thing you feed your cat.
Why not? It is just meat blended with water into a smooth puree, so it doesn't contain important:
Vitamins
Minerals (like calcium)
Fiber
Omega 3 fatty acids (found in fish oils)
Additional taurine
Taurine is found in meat, but cats need quite a bit of it. Processing or freezing destroys some of the taurine in the meat that is in commercial cat foods, so these companies always add more taurine to their foods to make up for this.
The goal is to get them eating regular cat food on their own (you will need to force feed if your cat is refusing every kind of food you offer).
If your cat digs the baby food, you can try mixing it with canned cat food.
For example, if your cat supposed to be on a special prescription canned diet (such as Hill's c/d for urinary tract issues) but doesn't like what the vet wants them to eat, mix it about half and half with baby food.
Keep this in your kitty emergency kit!